Over the past six months or more, you've probably heard the term "big data" floating around as if it is supposed to solve all your problems in business, marketing, operations, etc.  Just "access the data" and you'll be smarter than your competition.  You'll react to customer feedback.  You'll be a visionary.  Blah blah blah
All of this creates a situation where they hype is through the roof, but few people can really speak to real-world scenarios and useful applications of big data.  That's probably why "Big Data" is high on Gartner's Hype Cycle 2012 Chart.  Lots of possibilities, but not a lot of answers just yet.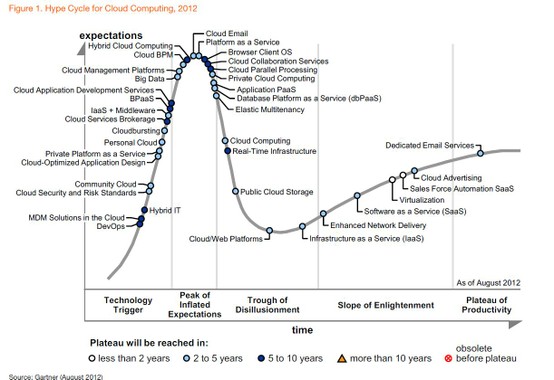 We work primarily in the social data realm at the moment, although we have been getting more & more requests to integrate offline data with social data to understand patterns.  Alongside first-cousin ROI (return on investment), the big question today is whether or not social media is a scorecard for how you're doing or if it can influence offline behaviors, purchase patterns, etc.
The takeaway for us so far is that different businesses certainly have different dynamics.  Only with full access to the data can you really draw any firm conclusions.
Contact us to learn more about how we can help harness big data for your company or brand.