Next Wednesday, I will be on stage at ad:tech NYC to debate the merits of Facebook advertising with my brilliant friend, April Wilson. I thought I'd take a few minutes today to talk about the state of the industry as a guy who has worked in digital advertising on and off for 16 years - from banners to search to social to mobile and now programmatic.
Back to the advent of the internet as a commercial venture, people have been drawn to the potential of reaching customers in new, innovative, and interactive ways. In the 1990s, our best options — as buyers or sellers — were banner ads. The problem is that buyers really didn't like the fact that users could so easily ignore them, so CPMs dropped and were utterly obliterated in the tech bust of 2001. In the late '90s, GoTo.com (later Overture) debuted a pay-for-placement advertising option that would allow an advertiser to pay only for the clicks generated from premium placement in search results. This was important because it provided a business model to search engines that had largely to that point been struggling with monetization.
Overture won a patent for this pay for placement advertising concept in 2001, and sued Google for ripping off its intellectual property with its AdWords product.
Yahoo bought Overture and ultimately settled with Google for 2.7 million shares of common stock, worth about $1.5b at the time of this blog post. Not a bad deal, I suppose — considering that Google really refined search advertising into the money tree that it is today. But now, Adwords is 13 years old and a mature auction. As the two charts below show, Google CPCs network wide peaked in 2010-2011 and have been declining year over year in every quarter since 2011Q2. Why is this the case? The number of bidders created demand that outpaced the economic value of the click. Marketers buying clicks in early 2011 were probably overpaying. Now we're reverting to the actual economic value as bids are dropping.
Another reason for that may be the advent of social media as a competitive threat. By  2011Q2, Facebook had reported 700 million global users as it began to go mainstream, and enjoyed ~80% market share in social ads revenue. 2011 also happens to be the year when Facebook debuted Page Like, Page Post, and Sponsored Stories ads. Coincidence? I think not.
Now in late 2014, we have even more developments. Facebook has acquired Atlas and integrated it with their ad systems. They've done significant work to tie the Facebook Social ID to actions taken on the web, mobile, and Facebook platform. Facebook login is relatively ubiquitous and is the leading social sign-in provider in the world.  And social *is* becoming mobile as Facebook has gone from being irrelevant in mobile to being relatively dominant — mobile revenue is a huge portion of Facebook's overall revenue performance today.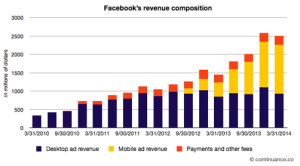 Some have argued
, correctly I think, that the combination of user-based identification and mobile devices are the last mile scenario that gets us ever closer to the concept of attribution. Marketers who have craved the performance benefit of search advertising — the science of turning money into clicks into buyers/users — is going to be taken to the next level with well harnessed social advertising.
We'll investigate all of this with a deep debate over the question facing marketers today —
"Does Facebook advertising suck or is it a place where I have to be?"
"What results should I expect as a brand advertiser?"
"What should I see from my agency of record to make sure my advertising dollars are being invested wisely? What 'worst practices' are a sign that you're not getting the value you should?"
"Should I increase my allocation to Facebook and social advertising if I haven't seen the results I need?"
"What are reasonable expectations of Facebook as an attribution platform? A way to improve sentiment for my product/brand? A branding platform?"
"What is happening in the ad tech world around programmatic, quantitative and qualitative assessment of results, etc.? What is happening over the next few years that will change the landscape for driving business and perception with social advertising?"
I look forward to seeing you all there!